Release Notes September 2021
Gantt Chart Scheduling

This major release provides the ability to schedule each project using a Gantt chart. This provides the following features:

Fully integrated with the ERP system. All phase codes automatically populate on the Gantt chart.

Percent complete is fully integrated with the Foreman labor reporting.
Drag and Drop connections between tasks provide logical connections:


Finish/Start

Start/Start

Start/Finish

Finish/Finish


Full constraint management:


As soon as possible

As late as possible

Start no earlier than

Start no later than

Finish no earlier than

Finish no later than

Must start on

Must finish on


Outline/Summary bars are easily added.

Add non-phase code tasks, projects, milestones that need to be managed in the schedule.

Full calendar management for managing holidays, overtime, weekend work and special circumstances:


Assign default or custom calendar to a job

Assign an over-ride calendar to a task

Display the critical path.

Auto scheduling will determine the schedule dates based on the task logic (what happens in what order).

Save a project baseline schedule and compare it to the current schedule.

Adjust the timeline from days, weeks, months, years
Resource requirements for each workgroup are shown at the bottom of the timeline.

Export the entire schedule to PDF, PNG, Excel, Microsoft Project.
6 Week Look Ahead

As a result of the Gantt Scheduling, there are a few minor changes to the 6 week look ahead screen.

The Scheduled Start Date for each phase code is now shown on this screen.

The Scheduled Finish Date can no longer be edited on this screen.

The default sort has been adjusted on this screen, so the screen sorts first by Start Date, then by Phase Code.

In order to manage the Schedule Start/Finish dates displayed on this screen, go to the Gantt chart scheduling screen. All the Start/Finish dates on the Gantt chart are sync'd with the 6 week look ahead. So any changes made to dates will reflect on the 6 week look ahead.
Permissions

A new permission has been added: "Allow Save Gantt Schedule". This manages who can make changes to the schedule. Other users can view and manipulate the Gantt chart but will not be able to save any changes.
Spectrum Export to Projections

The export function has an added option on the menu "Spectrum Projections Direct Transfer". This new export pushes your labor forecast directly into Spectrum job projections. This avoids creating an intermediate file. This option will be of interest to project managers, since it allows them to easily move all the data from JobSiteForecast directly into Spectrum so they can do their monthly projections in Spectrum.
Gantt Chart Example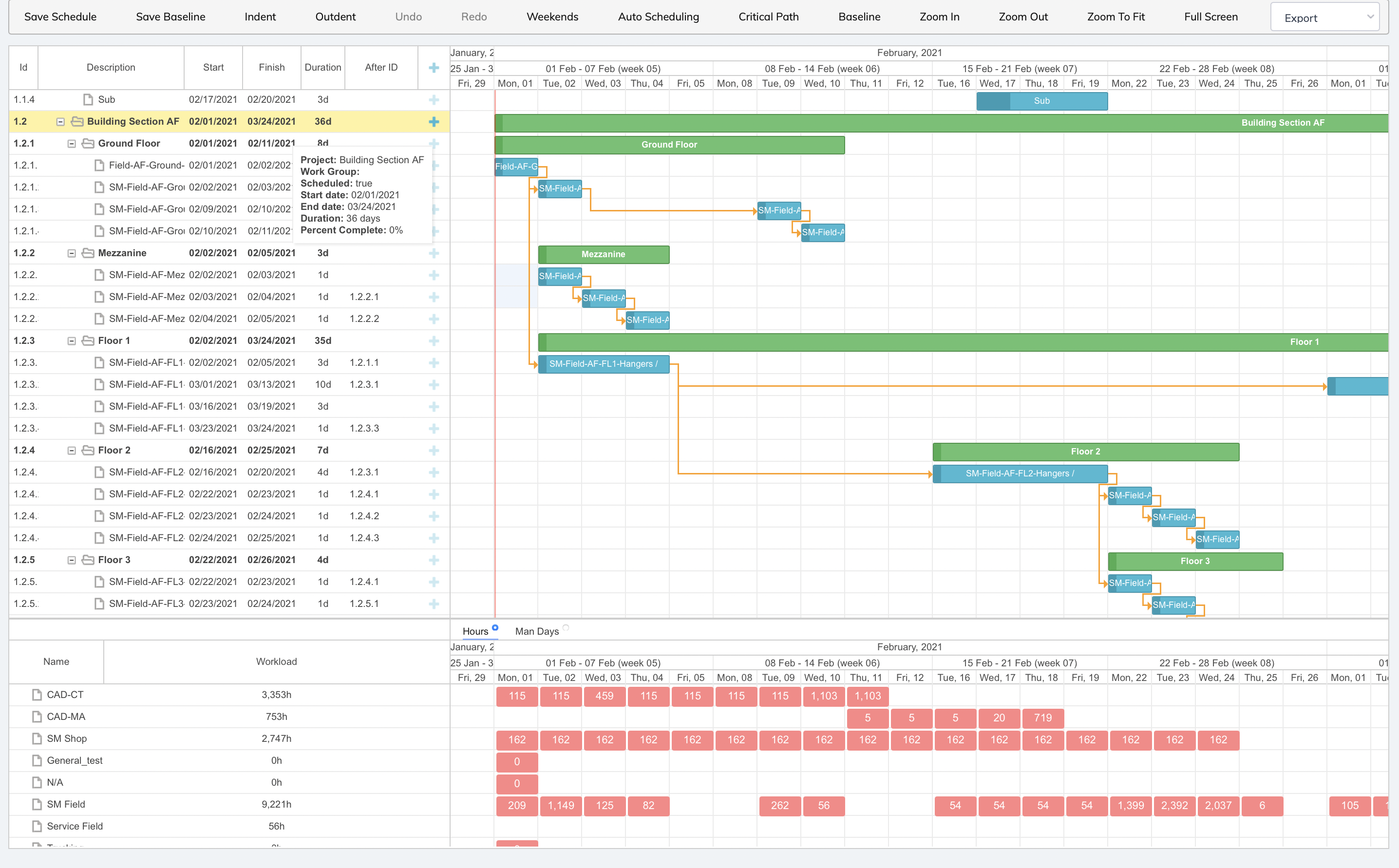 Related Articles

Release Notes - April 2023

This release has a number of changes inside the functioning of the system. Automatic Overnight Updates The system will now update overnight automatically. This means there is no need to import the payroll weekly. The IMPORT button is now grayed out ...

Release Notes - April 2021

Today we posted a new release of this application! Job Scheduling Screen – New Sceen This screen breaks down the hours for the job into "Work Groups", so each Work Group can be scheduled with a start/end dates relative to the job start/end dates. Job ...

Release Notes June 2021

This release include new charting capabilities. Job Trend Chart There is a new tab on the Job Screen...Job Trend. This will present a chart of the job since the beginning of the job. Selection can be made between the following two data points: ...

Release Notes - November 2020

We posted an update today with the following features/changes: Phase Code Screen - New Screen This new screen pulls all the phases codes for actives jobs onto one screen. This allows you to separate all phase codes by trade or other criteria such as ...

Release Notes August 2022

Notifications System A new notification system is available. This will send email reminders to user when percent complete of production units reporting is overdue. There are two report styles available: Summary or Detailed. You can control what ...