This screen is designed for Foremen or Crew Leaders entering time for several employees. This screen will show all the entries you have made for the week.

Add Time Card
When you click this button you will get the dialog box below.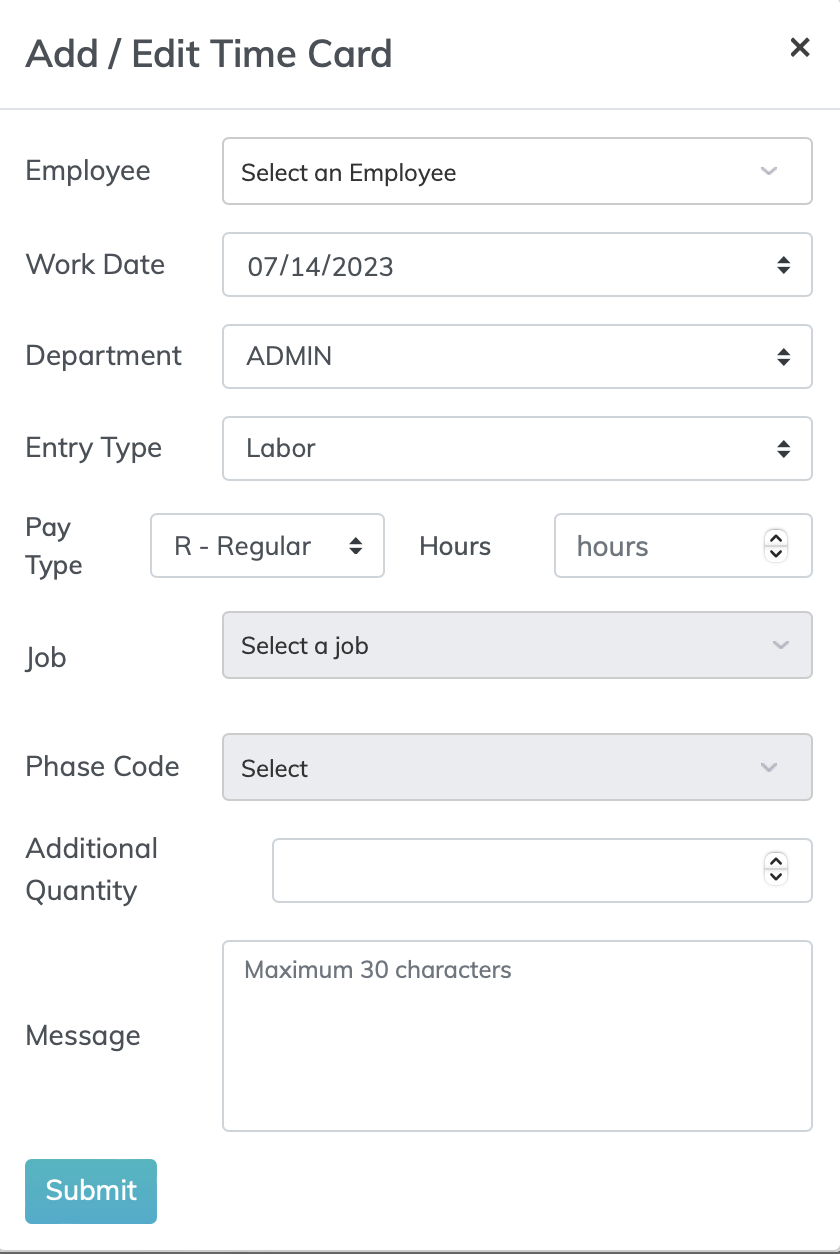 Fill in the fields to complete the time card.

Employee: start typing the name or employee id, select the employee required.

Work Date will default to Today. Adjust as required.

Department will default to the department on the employee record. Adjust a required.

Entry Type: Select LABOR or TIME OFF.

Pay Type: Select Regular, Overtime, etc.

Hours: Enter hours.

Job: Start typing the job number or name, select the job required.

Phase Code: Start typing the phase code description, select the phase required.

Additional Quantity: You can report quantities performed for this day.

Message: Enter any message for payroll.

SUBMIT when complete.

COPY a Time Card

First select a time card by clicking the select column.

Then click COPY.

This will copy the entire time card and advance the date one day.

CLONE a Time Card

This function allows you to copy all the data from one time card to several other employees at once. For instance if you have a crew of 4 people working on the same task, you would enter the time card for one employee, the clone it to the others. This will maintain all the same data, date, hours, pay type, job, phase, etc, and only change the employee.

First select a time card by clicking the select column.

Then click CLONE.

Select the employees that you wish to create time cards for, by starting to type their id or name, then select each one. You can select as many as required. Then click CLONE.

This will copy all the data from the selected time card and create matching time cards for the cloned employees.

Edit a Time Card

To edit a time card, double click it.
Delete a Time Card

To delete a time card, click the TRASH icon.
Week Ending Date

You can adjust the week ending date to see previous weeks or adjust the day the week ends.

Restrict Employees on a Job

You can restrict employees on a job to a crew list.